CHEUNG Long Him
BSc in Physics
Participating in UROP is one of the best decisions I have made within my undergraduate years. Research does not only provide me a chance to learn from hands-on experience, it is also important to my personal growth. You will encounter tons of obstacles in a research project and it can be frustrating to deal with them. Nonetheless, as you struggle and continue to push your own limit, you will eventually come up with the solution. I believe the persistence and flexibility I have been trained under UROP would be the precious treasure that prepare me for any future challenges.
CHIU Hoi Chun
BSc in Physics
UROP allows me to experience rigorous researches early in my undergraduate studies. To me, research is like innovating upon the knowledge I have acquired from lectures and tutorials. Apart from passively learning new knowledge and skills to prepare for the project, we are also actively creating new ones in the lab to advance our understanding of the nature. I think this is the most exciting part one can get out of doing research. I am so glad that I have joined UROP, and I encourage whoever interested in contributing to the scientific community to join UROP as soon as possible.
GU Qiao
BEng in Electronic Engineering & Computer Science
UROP has been a great opportunity for me to learn useful skills and apply them in real-world problems, not only about how to use a software, how to conduct a literature review and how to design an experiment, but also about the art of teamwork, like how to achieve balanced workload, and how to coordinate and motivate the team members. Moreover, I have got a taste of the nature of research. The curiosity in the exploration and the excitement in the discovery have really inspired me to continuously study deeper into the problem, which I believe are exactly what keep a researcher enthusiastic.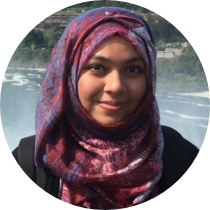 HASSAN Shaoli
BSc in Biochemistry and Cell Biology
From walking into the lab as a lost and perplexed student with absolutely no prior experience in conducting research or reviewing literature, to growing personally and academically every moment – UROP has been undoubtedly one of the most treasured journeys of mine at HKUST. The program has allowed me to discover my dormant fascination for research and has helped me develop crucial experimental and critical thinking skills. It has not only helped me decide a path for my future career but has also introduced me to some of the most amazing people without whom life simply would not have been so splendid!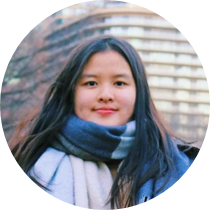 JUNAEDI Victoria Amanda
BSc in Economics and Finance
Joining UROP has allowed me to experience the end-to-end process of academic research: formulating an idea to a research question, getting my hands on primary and secondary research, writing my findings, and pushing them for publication. UROP allows me to not only work with experienced academics in the field, but also understand my own interests more in-depth. I can seriously say that my research in UROP has helped shape my specific interest within my own field, and it has been part of my journey to hopefully go for further studies and build a career in academia in the near future.
LEE Hojun
BSc in Quantitative Social Analysis
UROP summarizes my undergraduate experience at HKUST. I started UROP in my first undergraduate year and continued it almost every semester until graduation. It was first started to acquire extra credits, but it later became my primary impetus to learn and pursue deeper knowledge. I had to learn new programming languages to perform the analysis I wanted to, and I had to take political science and history courses to supplement my understanding of the research context. I think this is what makes UROP so special. UROP is not about earning scores but about proactively learning to become a valuable member of a research team.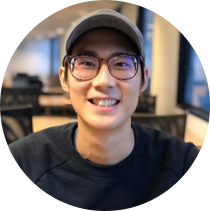 LEUNG Ziuwin
BSc in Biotechnology
Besides being able to experience what research life is about, UROP has also created a platform for undergraduate students to research in fields different from their majors. In addition, like any other project, the UROP project can be tough with many expected and unexpected challenges. However, being able to work very closely with my PI and lab mates navigating around challenges was not only fun but, in addition to honing my lab techniques, has also taught me skills about research and life that I will never forget and always appreciate. My UROP experience was a valuable opportunity for me to grow as a person and a researcher by contributing to an interdisciplinary research project.
LUI Sze Wai
BSc in Biotechnology
UROP provides me an opportunity to experience the life of researchers. For researchers, time is valuable, yet each experiment is time-consuming. Any minor mistake may ruin the whole experiment and waste our time. To keep my mind clear anytime, I learnt to keep work-life balance such that mistakes can be minimized. The life of undergraduates and postgraduates are totally different - the syllabus to learn in undergraduate studies is just those provided by professors, but syllabus in postgraduate school is unlimited, and require more self-learning. Overall, it is really worthwhile taking part in one of the UROP projects!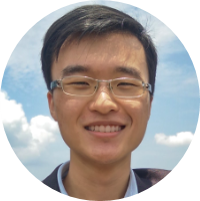 REN Da Wei David
BSc in Physics
UROP has been instrumental to my development. It has provided me with opportunities to explore my interests and discover my limits. The opportunities and resources offered my UROP led to my decision to pursue academic studies in fluid mechanics. It has also allowed me to make connections with people from all over the world. Overall, my UROP experiences improved my critical thinking, problem-solving, and communication skills. UROP has been a life-changing experience for me.
SHIHUA Mingzhi
BEng in Aerospace Engineering
Life is all about making choices, and enrolling UROP is definitely one of the most important and wise choices I have made in my life (choosing HKUST must be another such perfect choice). I started UROP with no prior knowledge in this field, as a field of research is often very narrow and in-depth which is totally different from classroom education. Fortunately, both my supervisor Prof. Rhea and other graduate students helped me from briefing me the essential knowledge and stills, getting me involved in the research itself (instead of repeating other people's work), performing my research independently, to eventually publishing a high-quality top conference paper. This experience is wonderful because it not only helped me learn state-of-the-art knowledge in this professional field, but also gave me a taste of what a scientific research is like. The program shaped me with a sharper mind, the ability of critical reasoning and a better understanding of my future choices to make.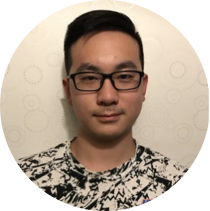 SIM Yi Hang
BEng in Electronic Engineering and BBA in General Business Management
To me, UROP is one of the most valuable experiences at HKUST, and I would highly recommend anyone to try it if they are eligible, even if they may not intend to pursue research or academia after undergraduate studies. It goes much beyond classroom and textbook teachings and puts us at the forefront of current knowledge in our field. Furthermore, it also allows for meaningful connections with a faculty advisor, as well as with other teammates, who may come from different backgrounds and share different interests. It has allowed me to push the boundaries of what I thought possible with what I could achieve.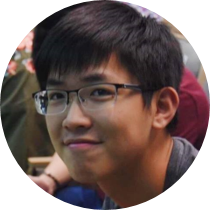 WAN Jingbo
BSc in Mathematics
UROP provides a good platform for you to start your research journey at your undergraduate studies. Being a part of UROP, you will definitely get a chance to know more about research and gain your own knowledge outside the classroom. No matter what final result you get in UROP, the effort you make to get there will teach you a valuable lesson. Try to read and think more than in your usual study and visit your supervisor more frequently, you will absolutely benefit a lot from UROP!
WANG Juntao
BSc in Physics
UROP gives me the precious opportunities to conduct cutting-edge research in my undergraduate career under the supervision of excellent professors and researchers. Participating in the UROP let me realize that doing research is more than learning knowledge and methodologies. The challenges encountered during the process of research, such as formulating the research problems and inventing novel methods to solve them, help me develop critical thinking and collaboration skills. UROP is a great program that improves my research skills and builds up my confidence, and also inspires me to continue my research in the future.
WONG Ting Hei Matthew
BSc in Chemistry
The UROP project was an amazing experience. I've had a great time at the lab talking to different researchers and learning from them various ways of solving problems. After working for a while, I've come to realize that the key to success in research is dedication. Even with the greatest talent in the world, one cannot translate that gift into results without investing a lot of time in the project. Never falter in the face of hardship; instead, persevere and you will see your hard work blossom into a reward far beyond your imagination.
YIP Chun Yin
BSc in Physics
UROP is a platform for you to analyze real-world problems with first principles. Under professors' supervision, you will be really given a chance to apply your textbook knowledge to solve problems, and you will know how useful the knowledge you have learnt can be. If you dare to challenge yourself, just join UROP, and it will be a fruitful experience.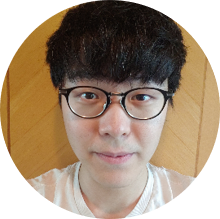 YU Tsz Tat
BEng in Mechanical Engineering and Sustainable Energy Engineering
I participated in UROP since Year 1 Summer. UROP provided me an early taste of research and helped me to determine the research topic that I am the most interested in. In the past two years, I have been working with other Ph.D. candidates in a first-class research group. It has been a fruitful experience and has definitely sharpened my analytical and problem-solving skills. After joining UROP, I confirm that pursuing a Ph.D. is the right path for me, and believe that experiences in UROP will give students an advantage in applications for jobs or post-graduate studies.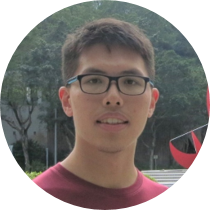 ZHANG Tianpeng
BSc in Computer Science & Mathematics
I came to realize academic research has a dual nature: on the one hand, it demands the mind of a scholar, that the researcher should be able to formulate the problem in a rigorous way and put the results neatly in a paper; on the other hand, it demands the skills of an engineer, that the researcher needs to cleverly design the experiments and, more importantly, carry out the detailed drudgery efficiently. Undeniably, the experience in UROP projects not only sharpens my scientific mindset but also gives me an organized and resilient mentality.
ZHU Lingbang
BSc in Physics
I have participated in the UROP program for every semester since the summer of my first year. Participation in state-of-the-art research is an extraordinary experience that cannot be obtained through in-class studies. In addition to the exposure to new technologies, I also benefit from the UROP program by learning how to balance the time spent in research and course studies, and perform objective-oriented self-learning practically to obtain the best performance. Besides, I learned about the importance of effectively conveying the importance of our research to others, which will probably be useful in my future career.